High Efficiency Air Filtration Systems, Air Scrubbers, Air Purifiers For Data Centers
Telecommunications, Electronic control rooms (pulp & paper, petrochemical, manufacturing, etc.), High tech industry (chip manufacturing, process rooms, etching areas)
Featured Air Filtration, Air Purification Systems
CSA 600 Brushless Motor Air Purifier
Dual high speed turbine motor / blower for high flow
Whisper quiet operation
Multi-stage filtration system
Custom filter configurations available
Front door access to filters for easy service
Intelligent controls, digital speed control, audible, visual alarms
13"W x 21"D x 45"H / 330mm x 533mm x 1143mm
Antimicrobial high capacity bag filter (F128) 23" deep bed custom chemical filter
1.5", 2", 2.5", 3" or 4" discharge collars
Digital Control, Variable Speed, Remote ON/OFF, communication capabilities, audible and visual alarms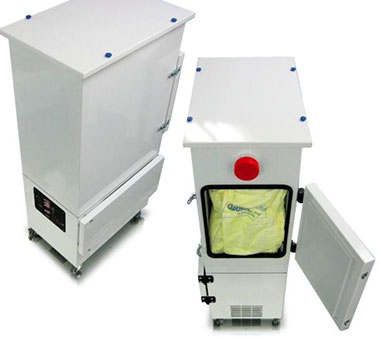 Data centers are dynamic environments where maintenance operations, infrastructure upgrades, and equipment changes take place regularly, leading to possible introduction of airborne contaminants. Data centers also house other contaminants, such as chlorine, that can be emitted from PVC insulation on wires and cables if temperatures get too high.
Nominal 1700 m³/h / 1000 CFM
High quality motorized impellers
120V, 60Hz, 4A / 230V, 50Hz, 2A
24"W x 26"D x 71"H / 610mm x 660mm x 1800mm
Pre-filters Chemical filter, up to 100 lbs / 45kg Medical grade HEPA filter(s) 99.97% (or 2nd stage Chemical filter)
Digital Control, Variable Speed, Remote ON/OFF, communication capabilities, audible and visual alarms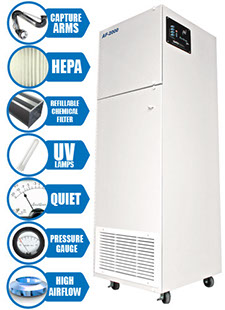 Using a 5 stage filtration system, this versatile and cost-effective unit offers enhanced protection against a wide range of airborne pollutants including chemical compounds, gases, odors and particles.
For specific applications that require localized removal of airborne pollutants, the AF1000 can be fitted with various ducting accessories or articulated fume capture arms.
600 CFM (283 liters/s); adjustable discharge
grilles
High quality motorized impellers
120V, 60Hz, 2A / 230V, 50Hz, 1A
16"W x 22"D x 53"H / 400mm x 560mm x 1320mm
Pre-filters Chemical filter, up to 100 lbs / 45kg Medical grade HEPA filter(s) 99.97% (or 2nd stage Chemical filter)
Digital Control, Variable Speed, Remote ON/OFF, communication capabilities, audible and visual alarms